Title: Beyond the Stars
Author: Stacy Wise
Expected Publication Date: February 8, 2016
Publisher: Entangled Publishing
Format: ARC
ISBN: 9781682811009
Rating: ★★★☆☆
Pre-order: Amazon | Indigo | Barnes & Noble
Summary: Most girls would kill for the opportunity to work for Jack McAlister, Hollywood's hottest actor, but twenty-one-year-old Jessica Beckett is ready to kick him out of her red Ford Fiesta and never look back. She should be spending her junior year in France, eating pastries and sharpening her foreign language skills. Instead she's reluctantly working as Jack's personal assistant, thanks to her powerhouse talent agent aunt.
Jack is private, prickly, and downright condescending. Jessica pushes his buttons—she's not the type of girl to swoon over celebrity heartthrobs, precisely why her aunt thought she'd be perfect for the job—and Jack pushes right back.
But as she begins to peel away his layers, Jessica is shocked to find she craves her boss's easy smile and sexy blue eyes. The problem is, so does the entire female population. And what started out as the job from hell soon has Jess wondering if a guy like Jack could ever find love with a regular girl like her.
My Thoughts:
A huge thank you to Entangled Publishing and NetGalley for providing me with an advanced copy for reviewing.
Life doesn't always go as planned, so when Jessica Beckett's college dream of studying in France falls through, she's looking for help from her talent agent aunt and winds up being the personal assistant of Hollywood heartthrob, Jack McAlister.
In true "boss/assistant storyline" fashion, she seems to be the only girl in the vicinity who's not impressed by his good looks, and he's an ass. Along the way, they discover the other isn't all that bad and lo-and-behold, something blossoms between them. I'm all for this trope, so of course I was pretty stoked to read it. Jessica and Jack are lovely characters when it comes down to it, but there weren't any life-changing obstacles in their way, so their story was kind of… ordinary. Nice, but ordinary. But oh, this story has a pig — I'm not talking about a disgusting male character; an actual pig. Let that sink in. It's actually a charming little storyline.
While I wasn't blown away by the book, I enjoyed the pacing of how things progressed. My only issue was that, while I appreciate a good "the journey is more important than the destination" story, the journey to their inevitable relationship took up a majority of the book and we didn't really get to witness any of the results. I guess that's me wishing that the book was longer, because I did enjoy their relationship and wanted to see more of it.
I feel like I'm so drawn to angsty love stories that I don't know when to stop and take a breather. I already knew, judging by the synopsis, Beyond the Stars was anything but. So I thought it'd be a nice change from my choice of gut-wrenching reads as of late. I definitely wasn't wrong. If you're looking for something nice, quick, and fluffy, pick up this debut novel from Stacy Wise.
ABOUT THE AUTHOR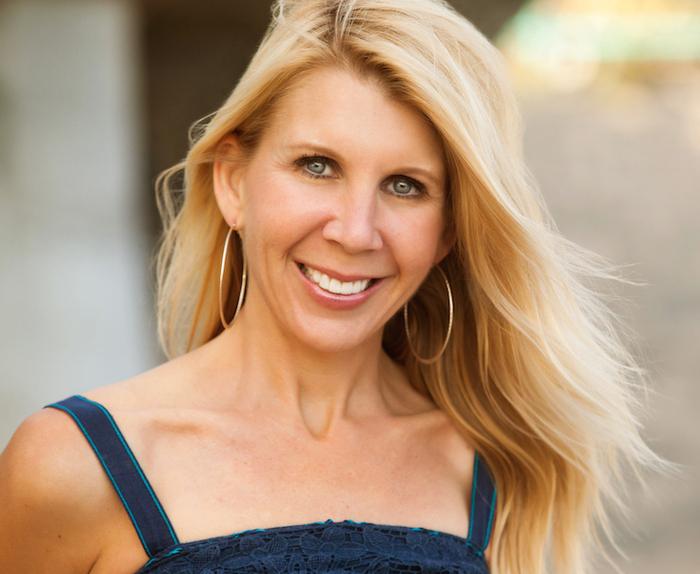 Stacy Wise is the author of BEYOND THE STARS (Entangled Embrace, 2016). She has a B.A. in Communication Studies from UCLA and a Masters in Teaching from Chapman University. She lives in California with her husband, four children, two dogs, and an ever-changing number of fish.
Before becoming a full-time writer, Stacy worked in television casting on shows including Party of Five, The X Files, Sabrina, the Teenage Witch, and Married…With Children. When she's not dreaming up stories, you can find her beating up the bag at a kickboxing gym or walking her dogs, Bailey & Rex. (via Goodreads)
CONNECT: Goodreads | Official Site │ Twitter