Title: These Vicious Masks
Author: Tarun Shanker & Kelly Zekas
Series: These Vicious Masks (Book 1)
Expected Publication Date: February 9, 2016
Publisher: Swoon Reads
Format: ARC
ISBN: 9781250073891
Rating: ★★★★☆
Pre-order: Amazon | Indigo | Barnes & Noble
Summary: Jane Austen meets X-­Men in this gripping and adventure-­filled paranormal romance set in Victorian London. England, 1882. Evelyn is bored with society and its expectations. So when her beloved sister, Rose, mysteriously vanishes, she ignores her parents and travels to London to find her, accompanied by the dashing Mr. Kent. But they're not the only ones looking for Rose. The reclusive, young gentleman Sebastian Braddock is also searching for her, claiming that both sisters have special healing powers. Evelyn is convinced that Sebastian must be mad, until she discovers that his strange tales of extraordinary people are true—and that her sister is in graver danger than she feared.
My Thoughts:
A huge thank you to Swoon Reads and NetGalley for providing me with an advanced copy for reviewing.
"Jane Austen meets X-Men". That's as much as I read of the synopsis before I decided I needed to read this. It's a thing I never knew I wanted until I read that line. The story centers around Evelyn, a bored society girl whose younger sister suddenly goes missing. She takes it upon herself to find her by any means necessary. Along the way, she enlists the help of the mysterious Mr. Braddock and her friend, Mr. Kent. Through her journey to find her sister, she finds out other things that she probably preferred not to — things about herself and the society she thought she knew so well.
The dialogue, the characters, the settings, the everything — just so, so good. It's meant to be a period piece and it definitely reads like one. On the flip side of that is the paranormal stuff, which was also very well-written. I don't know what it is about magic and the paranormal that allows it to mesh so well with the time period. Probably because they lacked the modern technology and were only beginning to discover the science we have today that makes it more believable. There's room to mould the imagination. What really impressed me, though, was Evelyn. She's confident, brash, impulsive, and incredibly witty. She can banter with the best of them; her conversations with almost everyone she interacts with are among the best parts of the book. In fact, all the characters are written so well and are incredibly self-aware and contribute their own individual quirks and personalities to the story.
Though it claims to be a romance, there was actually quite a lack of it. What I did see was the beginnings of not one, but two. Ah, love triangles. The bane of my YA-loving existence. But! This one is promising. I haven't liked all 3 individuals involved in a love triangle since The Infernal Devices. Maybe I just really have a thing for complicated romances set in Victorian London. Who knows? I did wish we got to see more of that side of the story, but this seems like it's being set up as a series (pretty please?), so I'd imagine that there's always more time for that to flourish. I won't say which guy I prefer with Evelyn just yet — I advise you all to pick up this book when it comes out and decide for yourselves.
In short, if you do have enough sense decide to read this book, prepare for a kickass adventure. Because this one definitely delivers.
ABOUT THE AUTHORS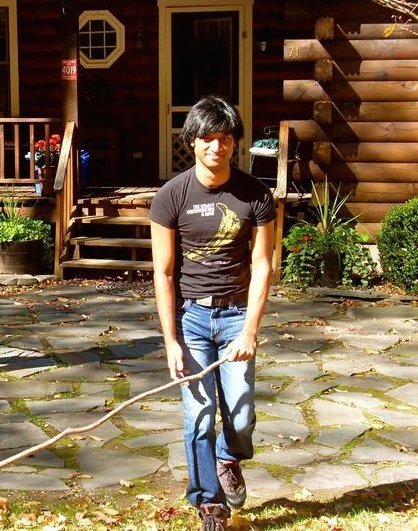 Mild-mannered assistant by day, milder-mannered writer by night, Tarun Shanker is a New York University graduate currently living in Los Angeles. His idea of paradise is a place where kung-fu movies are projected on clouds, David Bowie's music fills the air and chai tea flows freely from fountains. (via Goodreads)
CONNECT: Goodreads | Official Site │ Twitter









Kelly is a writer living in NYC. YA is her absolute favorite thing on earth other than cupcakes and she has spent many hours crying over fictional deaths. She also started reading Harlequin romances at a possibly too early age (12?), and still adores a good historical romance. (via Goodreads)
CONNECT: Goodreads | Official Site │ Twitter